« Takaisin
EONON GA9465B TESLASTYLE E90-93 ANDROID 10.0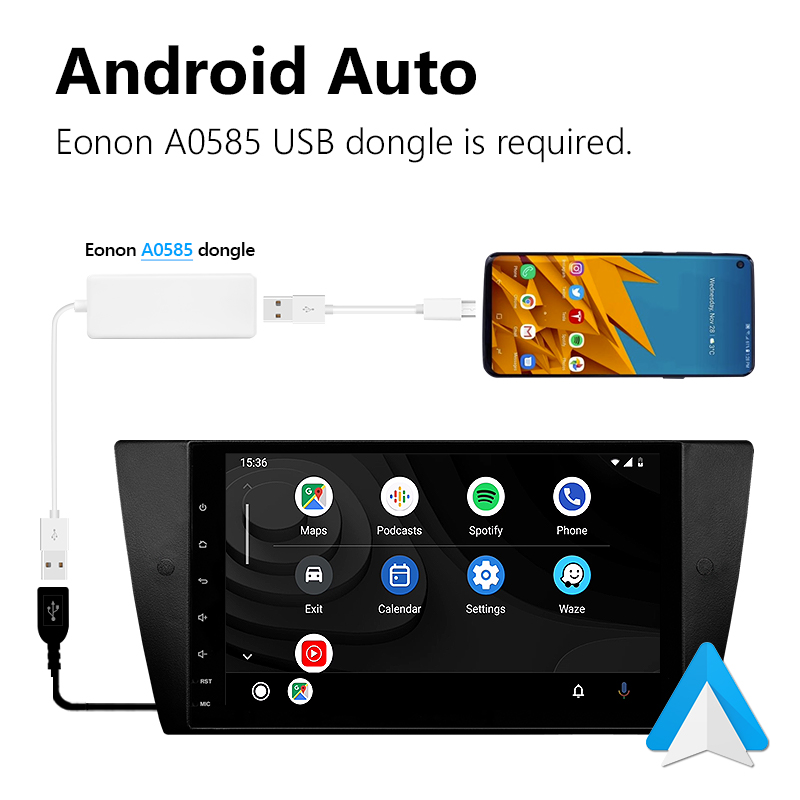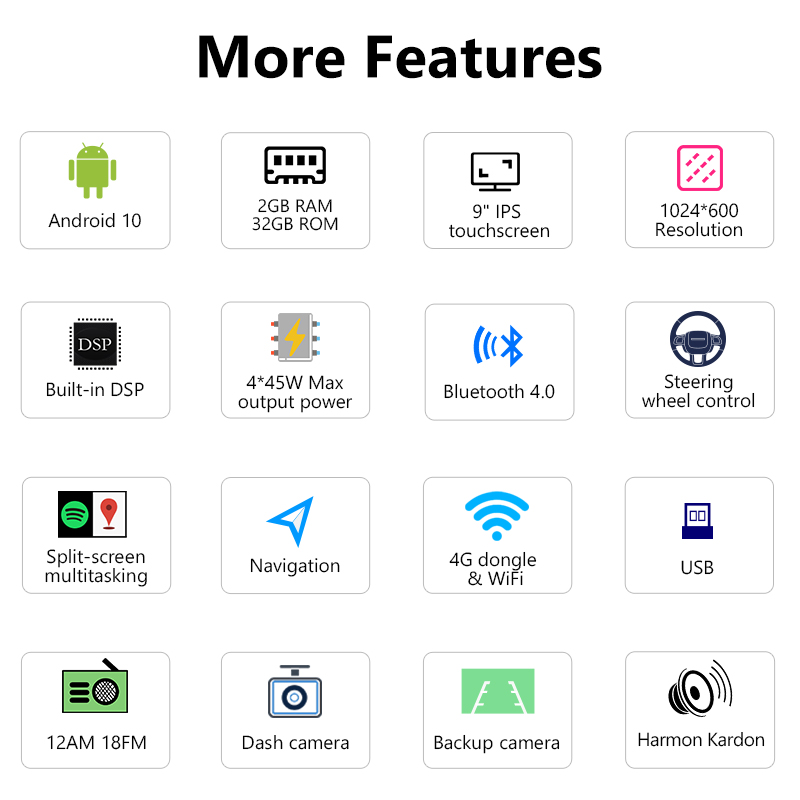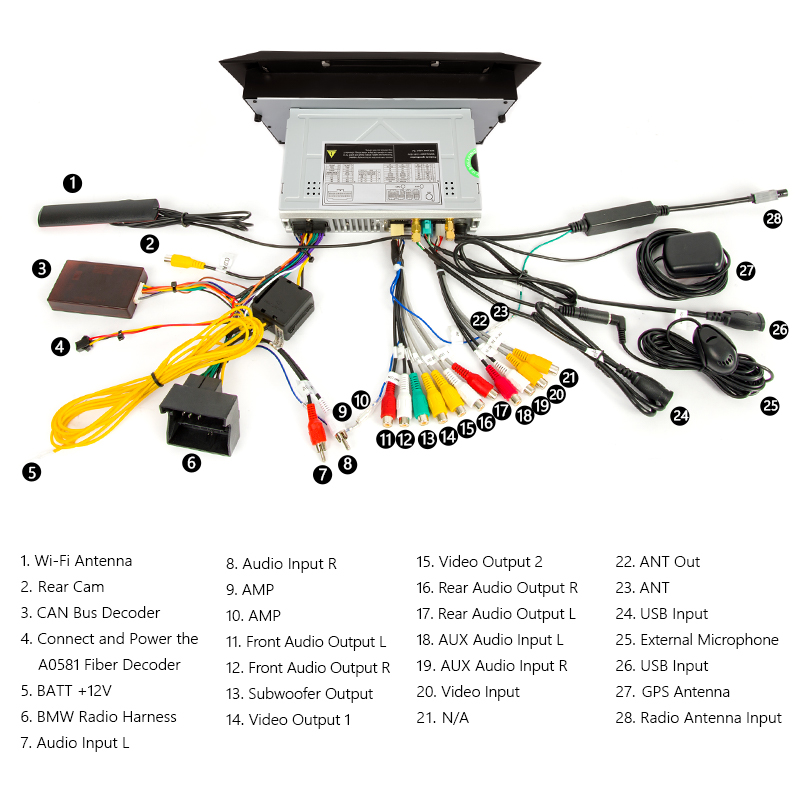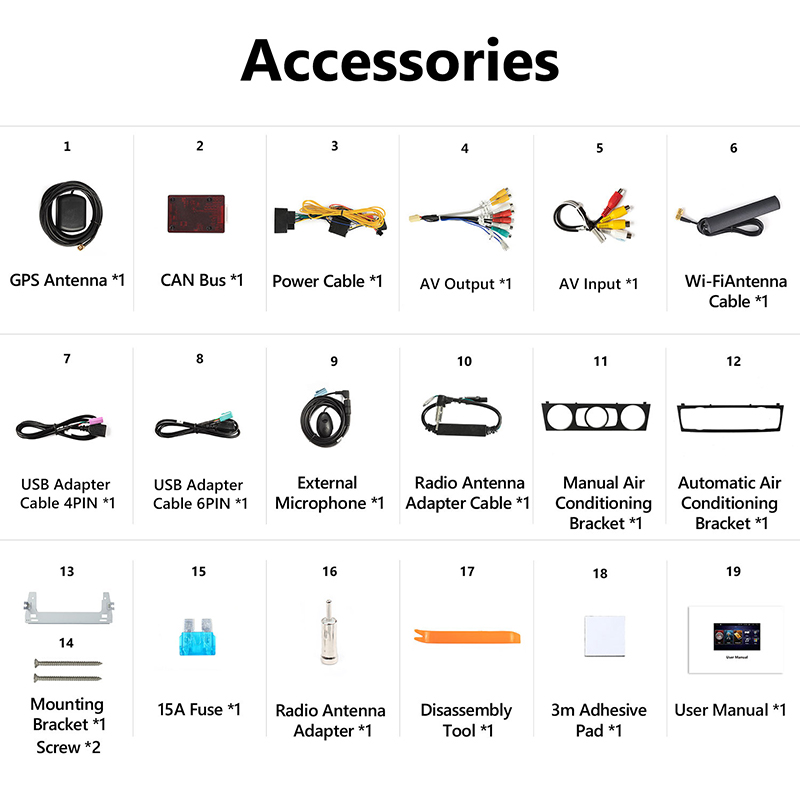 Eonon BMW 3 Series E90/E91/E92/E93 Android 10 Car Stereo 9 Inch IPS Full Touchscreen Car GPS Navigation Head Unit with Built-in Apple Car Auto Play DSP
Designed for BMW 3 Series E90/E91/E92/E93 2005, 2006, 2007, 2008, 2009, 2010, 2011.
Android 10 BMW car stereo with 32G ROM.
Built-in Apple car auto play head unit.
9 inch IPS full touchscreen car GPS navigation.
Built-in DSP car radio with 30-band graphic equalizer and 5 EQ modes.
Support Split screen multitasking and Bluetooth hands-free calling & audio streaming.
Support Android Auto by connecting Eonon A0585 USB dongle(not included).
Note: No DVD/CD function.


Features
 
Specification
 
Shipping
GA9465B


9 Inch Android 10 Car Stereo for BMW E90/E91/E92/E93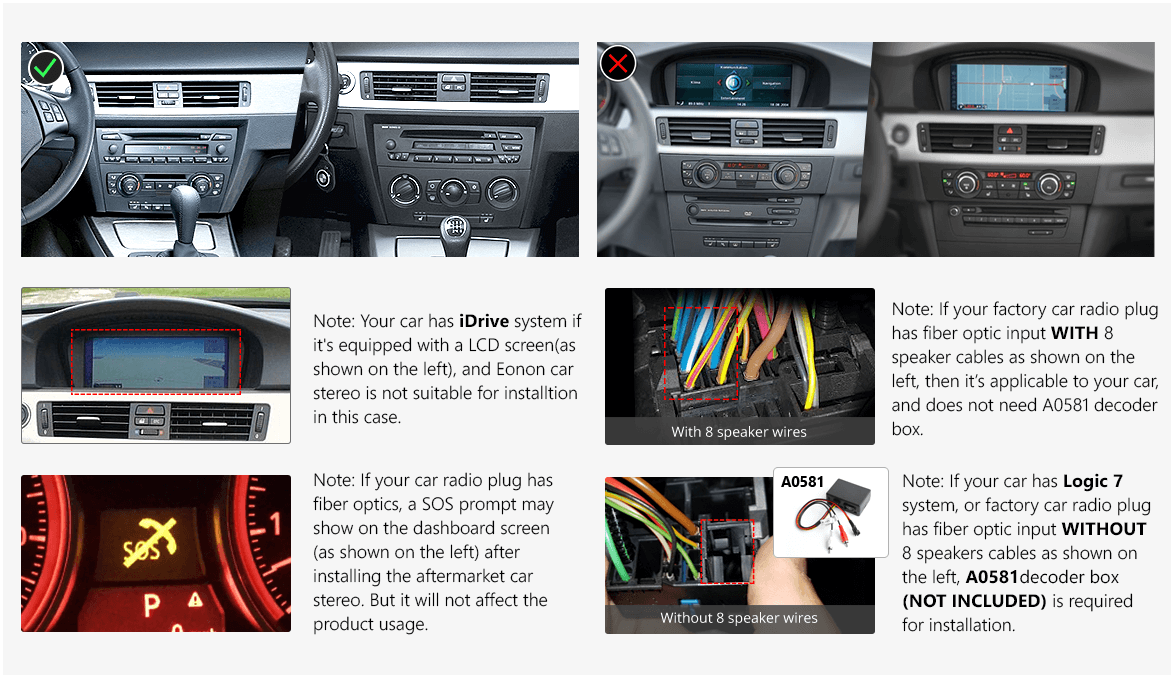 Giant 9 Inch IPS Display
Giant 9 inch IPS display provides you true-to-life color from any angle, makes everything look gorgeous and more clear while navigating or reversing. With its responsive touch-button design, you can also enjoy a precise fingertip control experience.

Newest Android 10
With powerful Android 10 system, you can enjoy a smooth and responsive user experience. Thousands of apps you want can be downloaded from music to games, faster than you can imagine.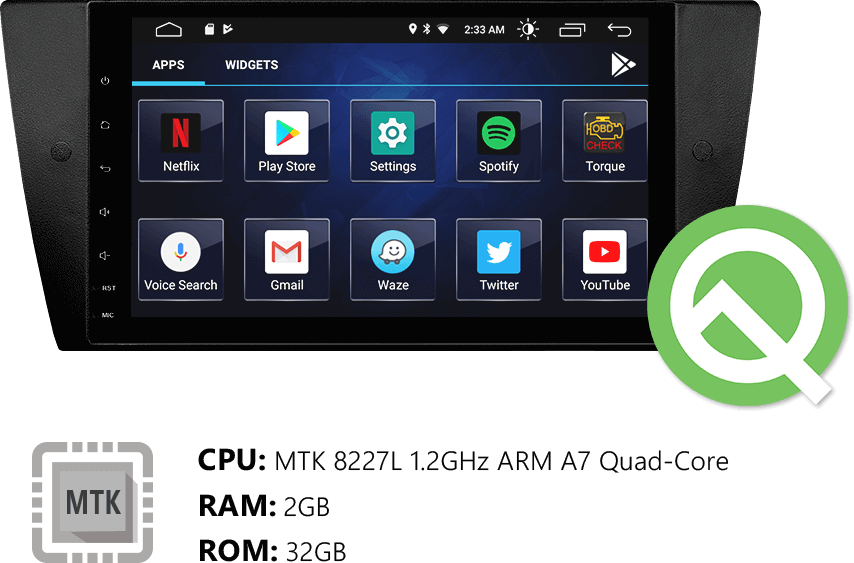 Built-in Apple Car Auto Play
It takes the things you want to do with your iPhone while driving and puts them right on car stereo display. You can get directions, make calls, send and receive messages, and listen to music with just a word or a touch. Stay focused on the road. Just connect your iPhone and go. (Compatible with iPhone 5 and later.)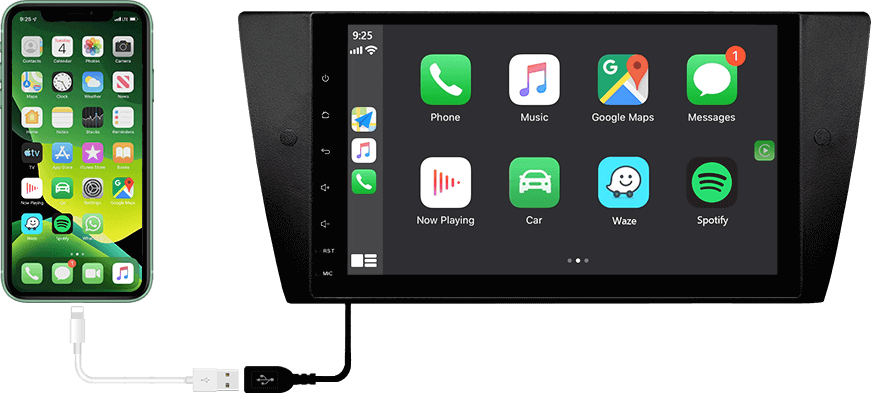 * For Android devices, Eonon USB dongle A0585 needs to be purchased separately to use Android Auto function.
Making Car Audio Sound Outstanding
DSP(Digital Sound Field Processing) features fully digital processing chip, and a powerful 56-bit double-precision mode to adjust the audio signal in every aspects, also supports MAX output power 4 x 45 W, which makes the music just sound wider and much more realistic.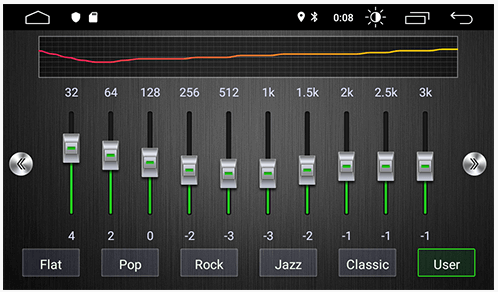 30-Band Graphic Equalizer
30-Band graphic equalizer and 5 present EQ modes provide you with the controls to tailor the listening experience to your vehicle and listening preferences. You can create your own EQ setting that best matches your favorite music.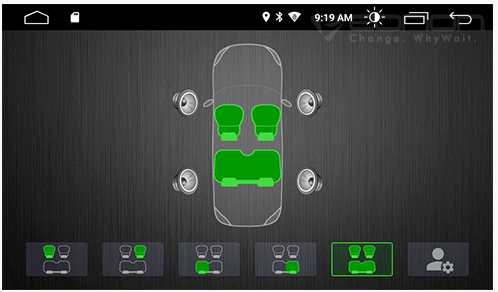 Choose the Optimal Sound Field
Sound field and time delay adjustment ensure you're always in the optimal sound field for a more natural listening experience.
Never Worry About Getting Lost
Navigation can be achieved easily by using the online, offline map or purchasing a map card. It can quickly run all navigation apps like Google Maps, Waze, etc., and offer up-to-date roadway information and concise driving directions.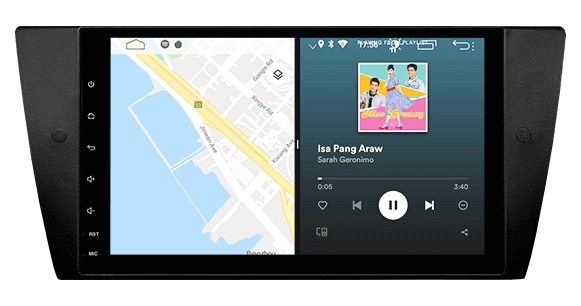 Do More at the Same Time
Split screen mode allows running two apps side by side. You can use Spotify while navigating, or visit the website while listening to the radio.
Hands-Free Calling and Audio Streaming
Ability to stream Spotify and Pandora from your phone via Bluetooth to enjoy millions of songs you like, and make hands-free calling while driving. Apart from supporting the display of song information and phone book, the head unit also supports searching contacts rapidly.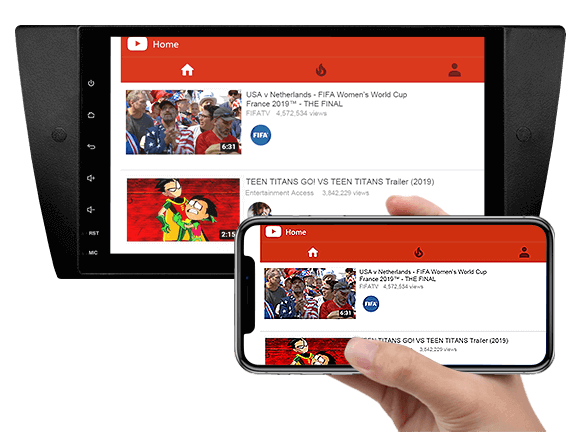 Stay Connected to Your Phone
Simply connect your iPhone wirelessly or Android smartphone via USB cable to access some of your favorite apps directly on car stereo. Enjoy a full screen access experience through the large, clear touchscreen, and help you stay focus on the road.
Retain Original Car Features
Dual CAN Bus system retains original car features after installing the new car stereo and builds information interaction between the car stereo and the car.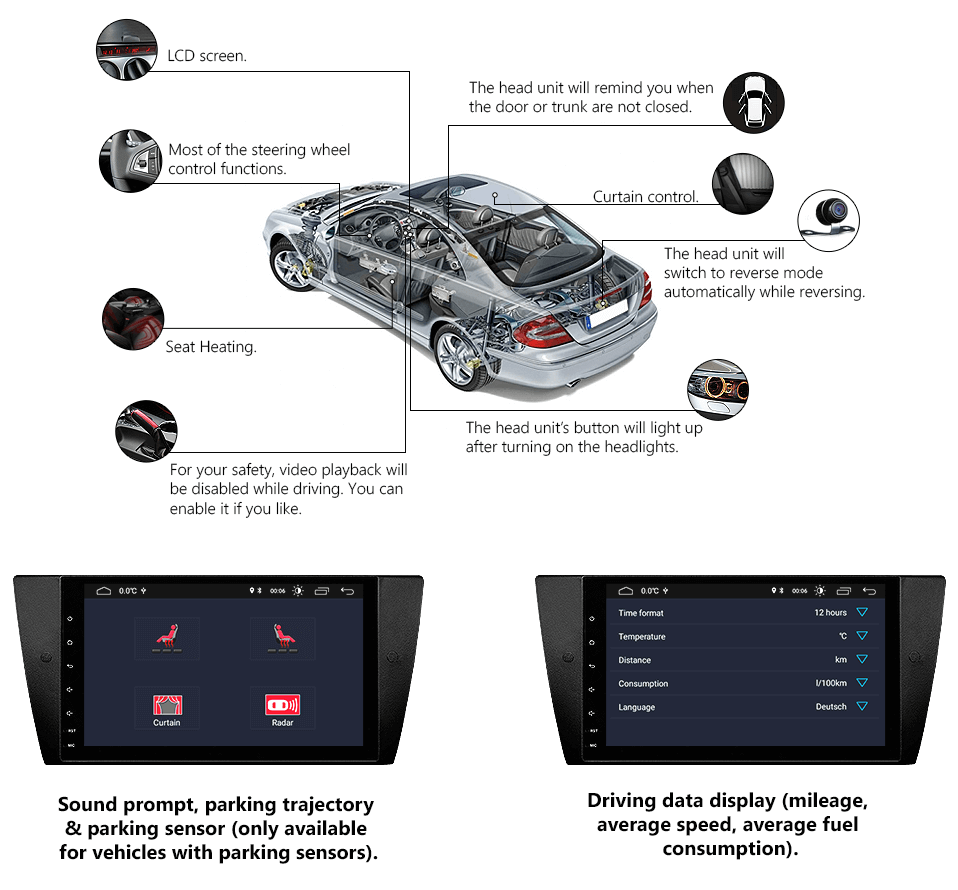 TDA7851L Power Amplifier
The TDA7851L is a breakthrough MOSFET technology class AB audio power amplifier in Flexiwatt25 package designed for high power car radio. The fully complementary P-Channel/N-Channel output structure allows a rail-to-rail output voltage swing which, combined with high output current and minimized saturation losses sets new power references in the car-radio field, with unparalleled distortion performances.

Built-in NXP TEF6686 Radio Module
The built-in NXPTEF6686 radio module delivers better performance to car stereo's radio, and provides you a high quality radio effect.

Backup Camera Supported
A backup camera clearly shows you the parking trajectory on the HD screen while reversing, makes blind spots a distant memory.

Using Internet Anywhere Just Got Easier
Use your smartphone to create hotspot, and purchase a Wi-Fi router or 4G dongle. So many ways for internet accessing. You can watch online movies, browse a website or download a great road trip app with no worries. (Network sharing via USB or Bluetooth is not supported.)

Two USB Ports
Charge your iPod/iPhone/Android device by connecting one USB port. Support USB flash drive, MP3 player with up to 64GB of storage.

It's All About You
With its many personalized options, you can design the interior just as the way you want. Regardless of the screen background, car logo or button color, just create your own style!

Is Boot Time
One second refers to the time of warm start, which means it takes only one second for you to restart the car stereo without turning off the power. (Note: Standby time can be set up to 1 hour.)

Video Output
By connecting the car stereo to the headrest monitor via RCA cable(not included), the rear-seat passengers can watch car stereo online videos through the headrest monitor.

Steering Wheel Control for Safer In-car Operation
Compatible with most of steering wheel control functions. Easy to switch songs, channels and adjust volume to help you to minimize distractions and keep eyes on the road.

See Car Performance in Real-time
With the Bluetooth OBD2 diagnostic scan function, you're able to get OBD fault codes, car performance, sensor data and more car information in real time. (Note: Eonon V0056 OBD2 scanner is not included.)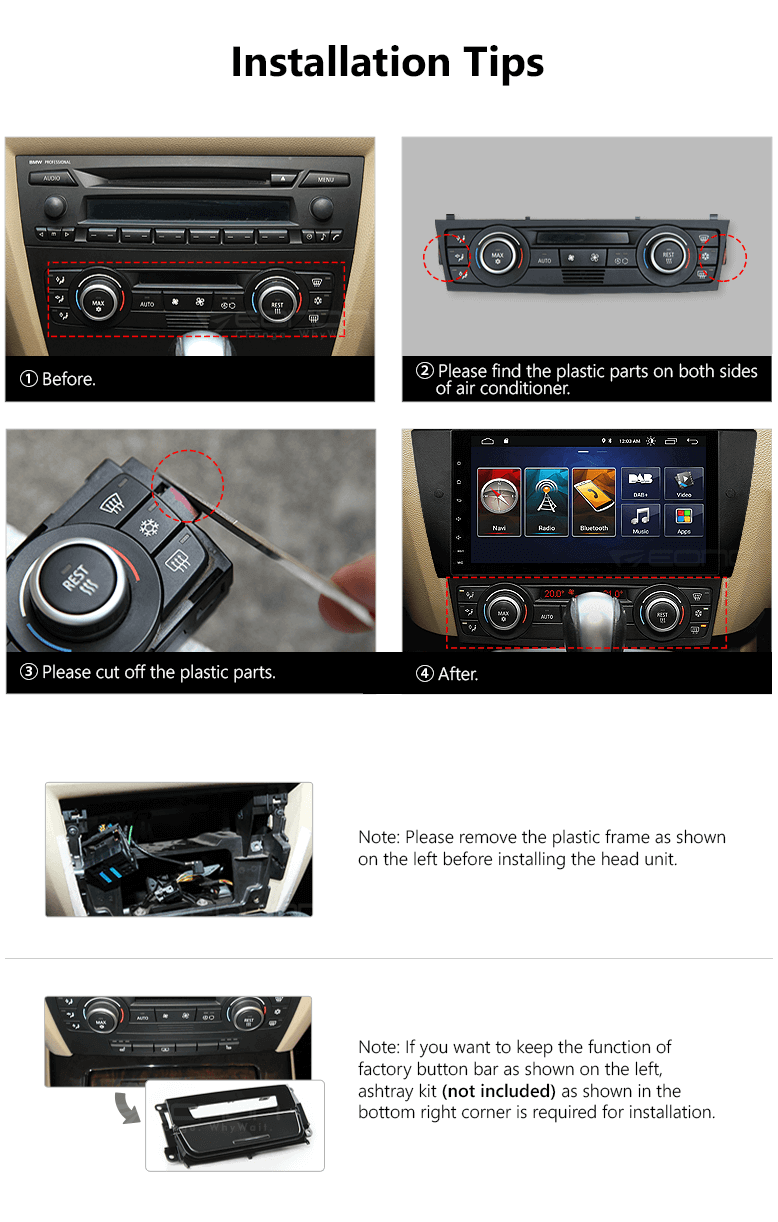 Saatavilla - Saldot ei päivity automaattisesti (OEM soittimet 1-2 vk)