« Takaisin
EONON GA9465 E90/E91/E92/E93 ANDROID 10.0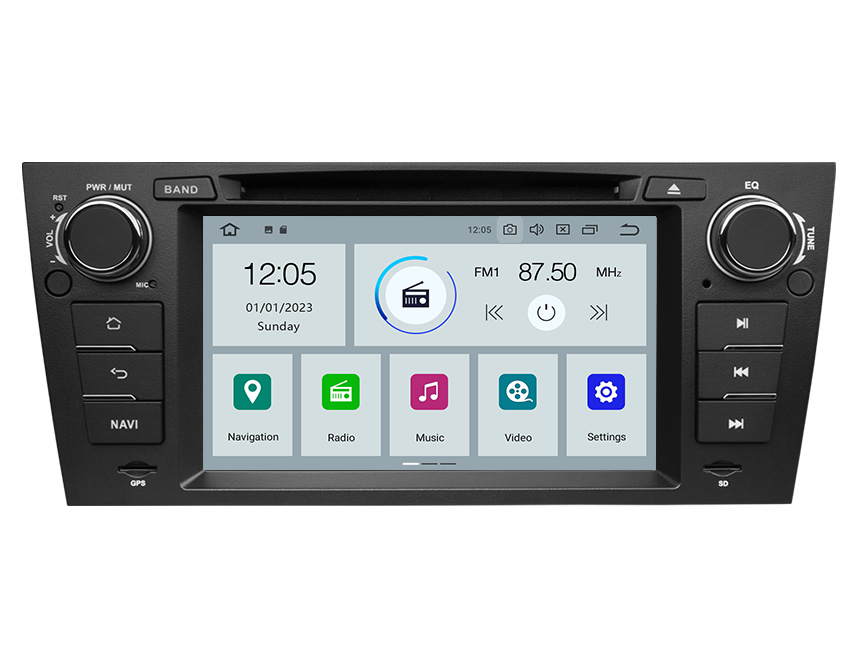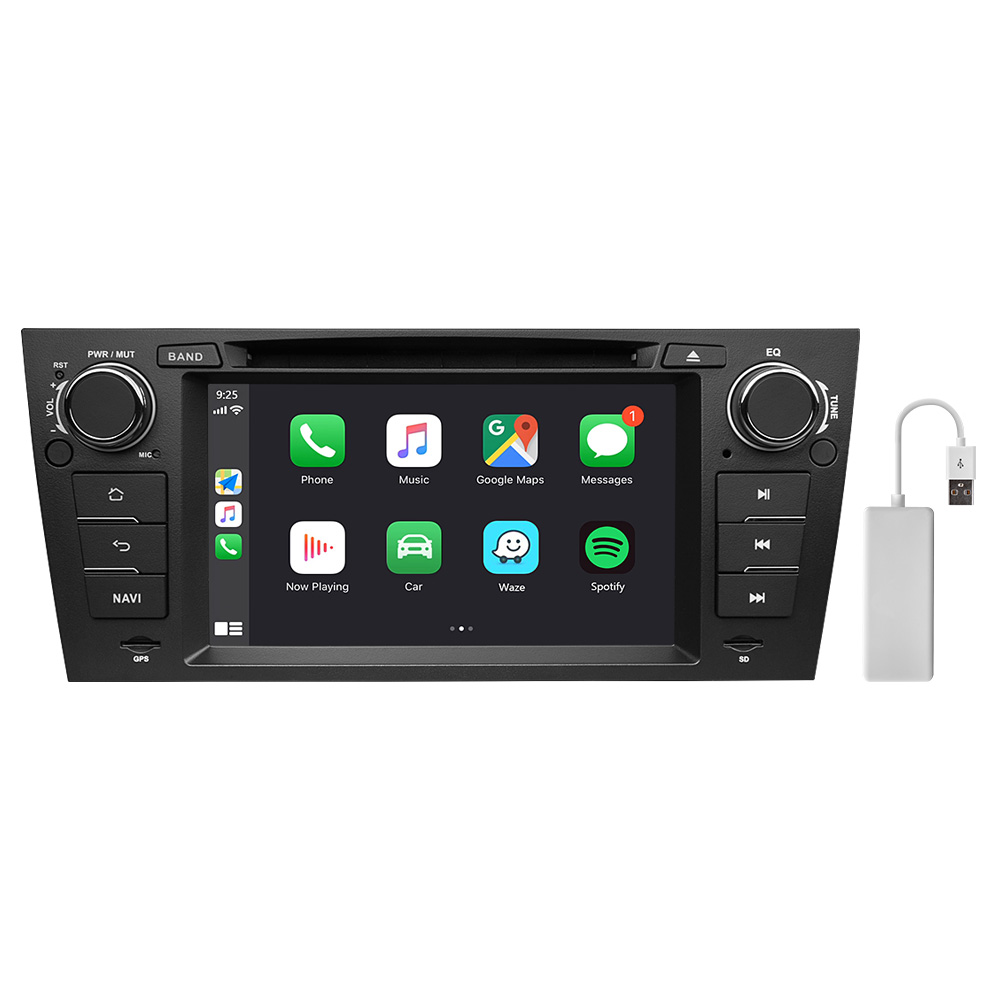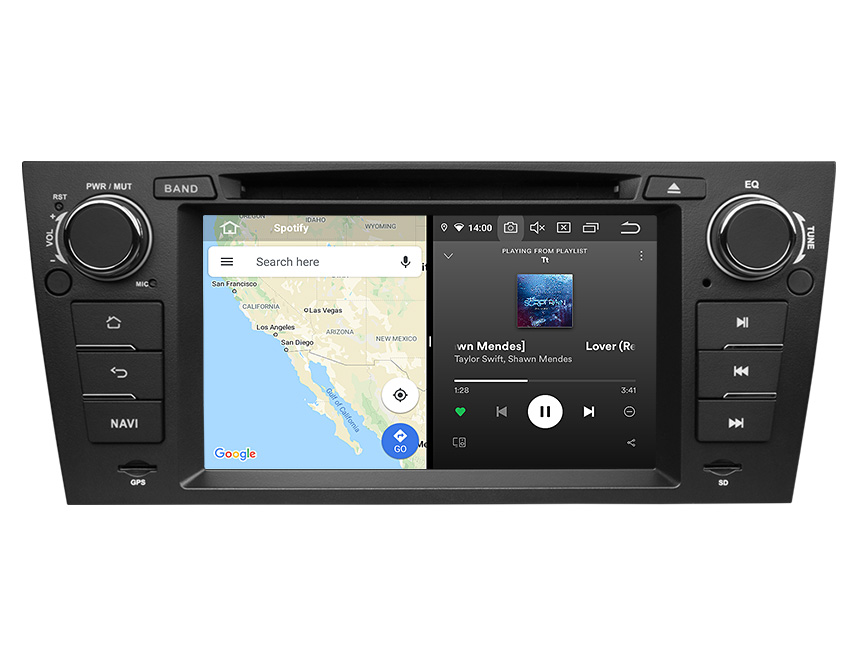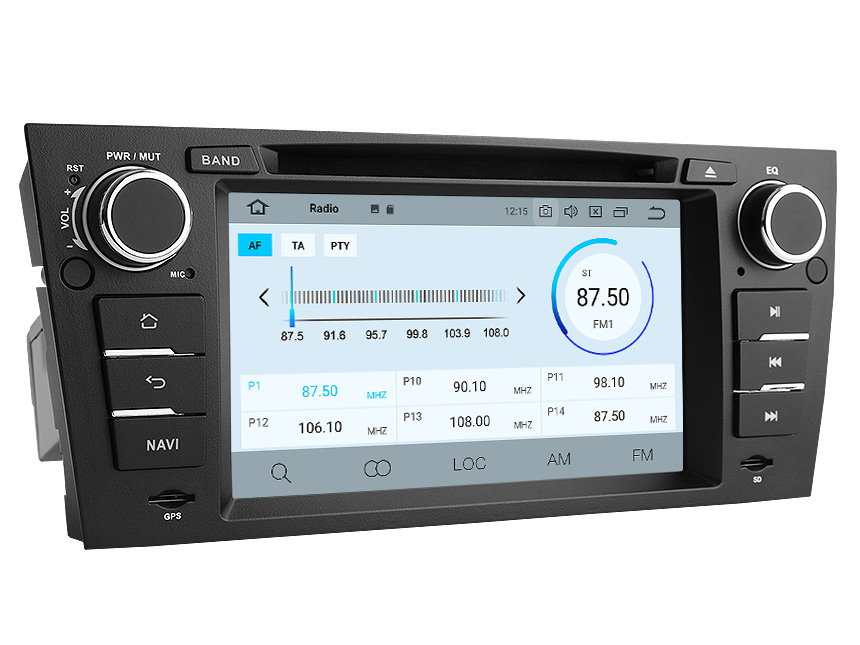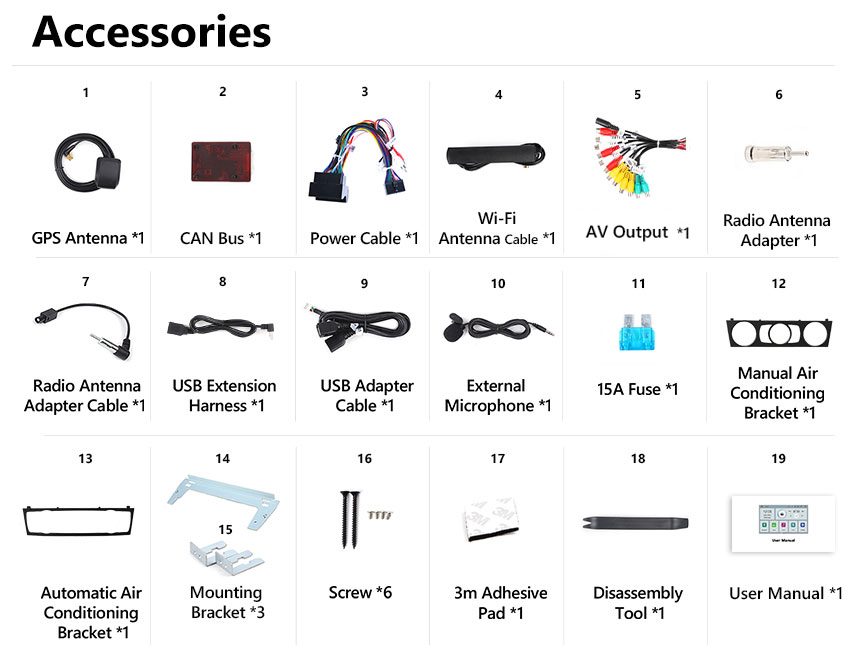 GA9465
Eonon BMW 3 Series E90/E91/E92/E93 Android 10 Car Stereo 7 Inch Touchscreen Car GPS Navigation Head Unit with 32G ROM Bluetooth 5.0 Car DVD Player
Designed for BMW 3 series E90/E91/E92/E93 2005, 2006, 2007, 2008, 2009, 2010, 2011.
Android 10 BMW 3 series car stereo with Rockchip PX30 quad core & 32G ROM.
Support car DVD/CD player and split screen multitasking.
Newest Bluetooth 5.0 head unit with hands-free calling & audio streaming.
7 inch HD touchscreen car GPS navigation.
Support Apple CarAuto Play & Android Auto by connecting Eonon A0585 USB dongle(not included).
Features
 
Specification
 
Shipping
GA9465

Android 10 Car Stereo for BMW 3 Series 2005-2011(E90/E91/E92/E93)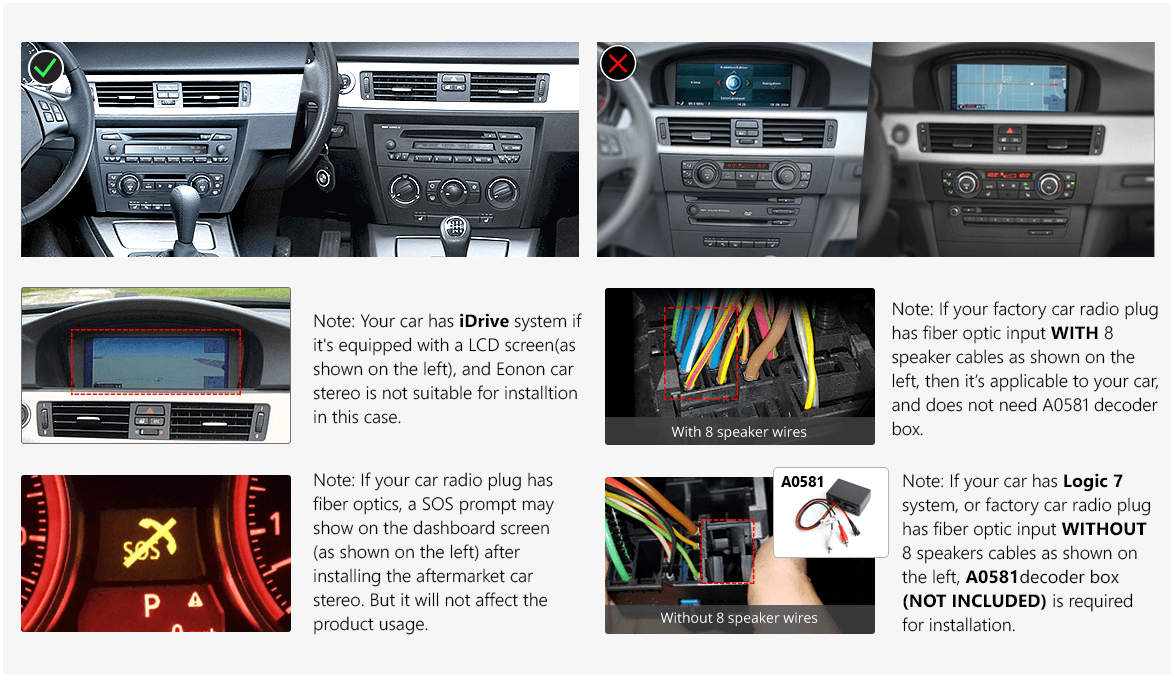 Newest Android 10
With powerful Android 10 system, you can enjoy a smooth and responsive user experience. Thousands of apps you want can be downloaded from music to games, faster than you can imagine.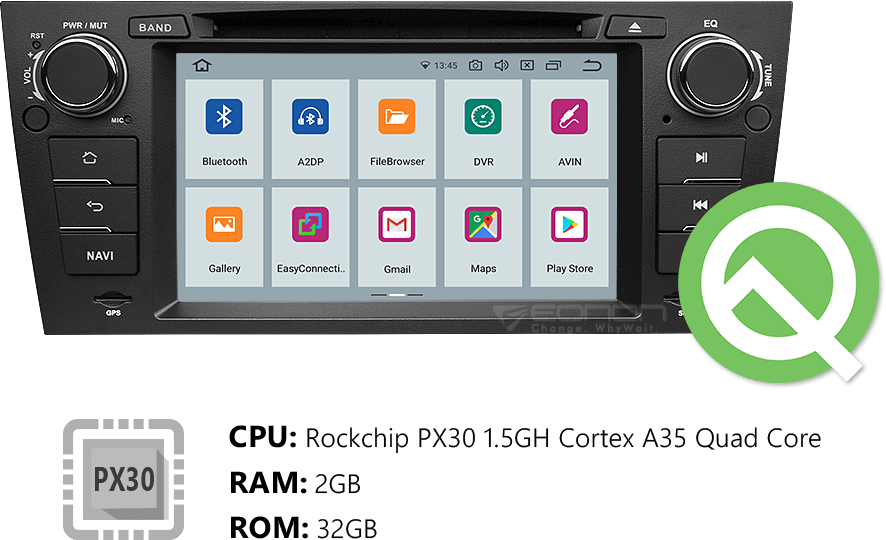 Enjoy the App Specially Made for Driving
Simply connect iPhone/Android Smartphone to the car stereo via Eonon USB Dongle A0585(not included). The smartphone built-in driving mode will be activated. It allows the stereo access the phone and use the app in driving way such as setting navigation route, make calls, listen and reply message by voice conversation.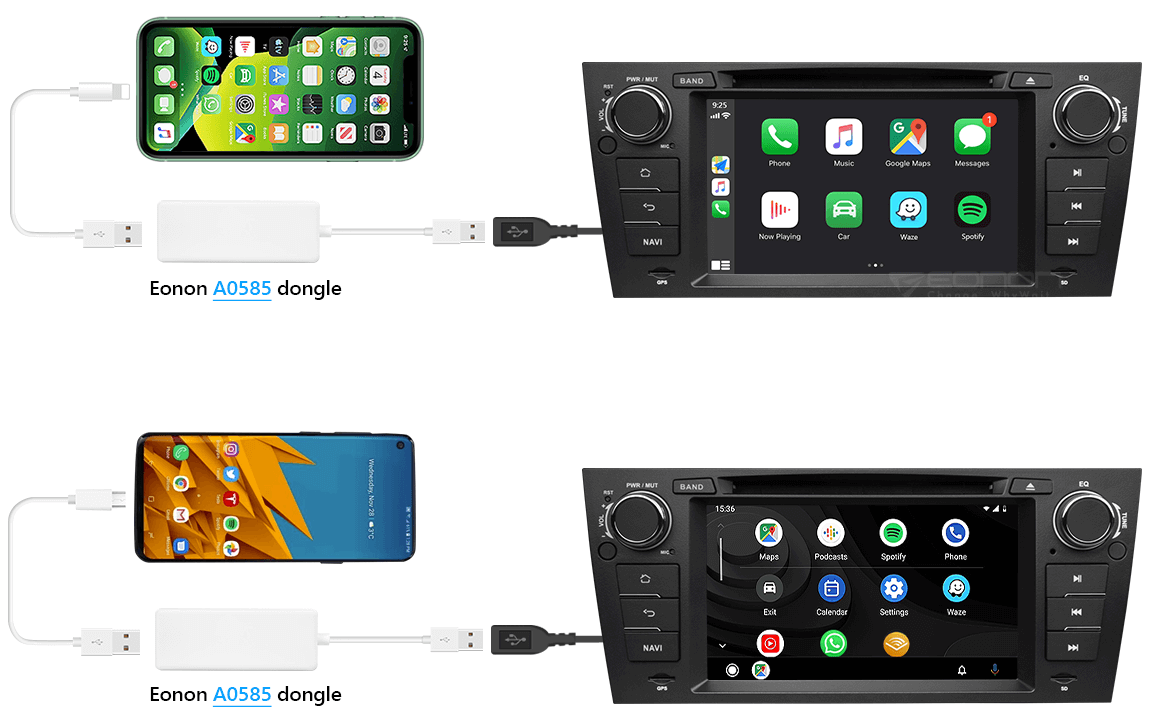 Bluetooth 5.0
With faster transfer speed, wider coverage and stronger anti-interference, Eonon car stereo with Bluetooth 5.0 wireless technology allows you to stream Spotify and Pandora from your phone to enjoy millions of songs you like with a high fidelity quality, and make hands-free calling without noise while driving.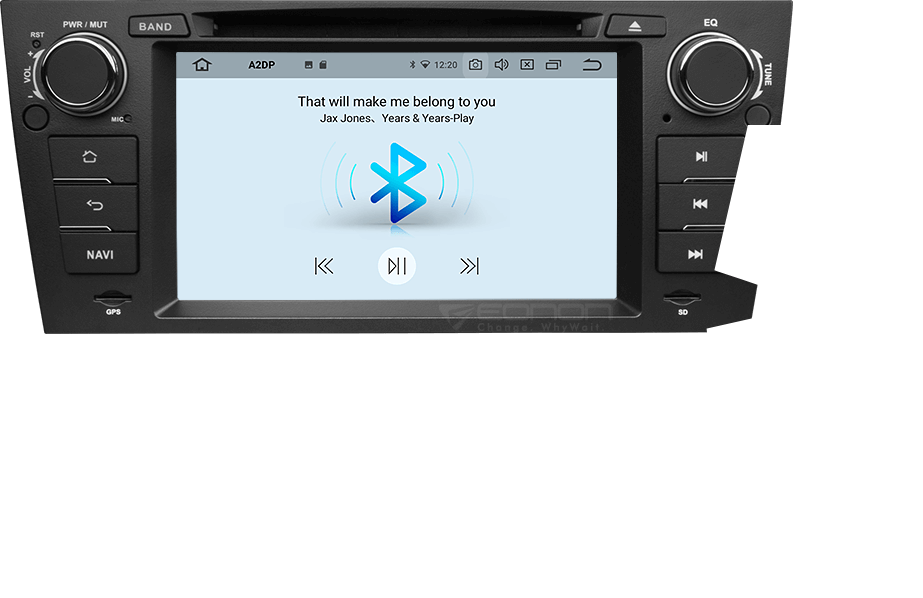 Do More at the Same Time
Split screen mode allows running two apps side by side. You can use Spotify while navigating, or visit the website while listening to the radio.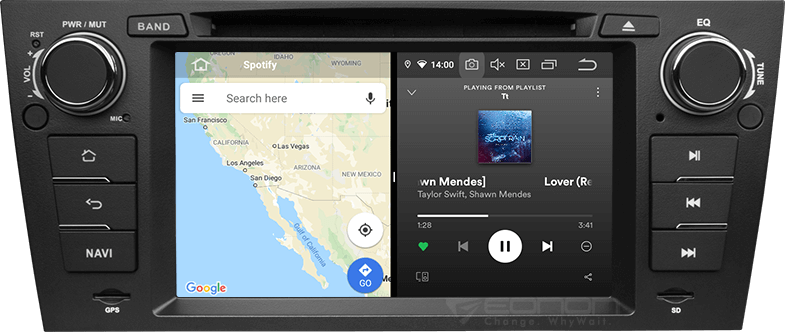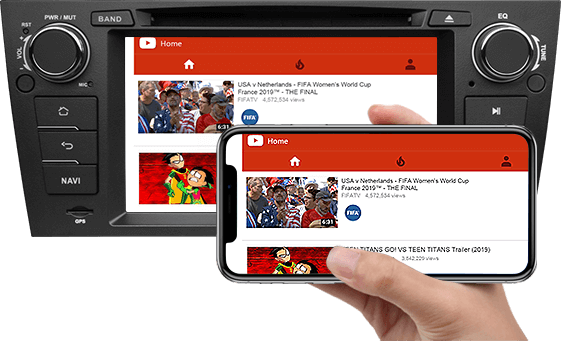 Stay Connected to Your Phone
Built-in App "Easyconnect" projects your smartphone screen to the head unit (Mirroring). Enjoy your favorite music and apps on the road.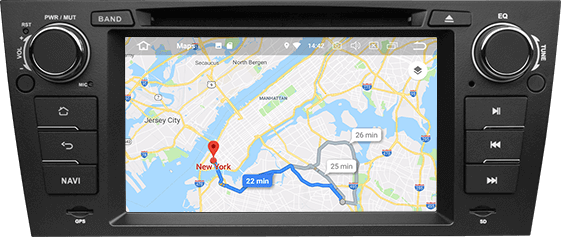 Never Worry About Getting Lost
Navigation can be achieved easily by using the online, offline map or purchasing a map card. It can quickly run all navigation apps like Google Maps, Waze, etc., and offer up-to-date roadway information and concise driving directions.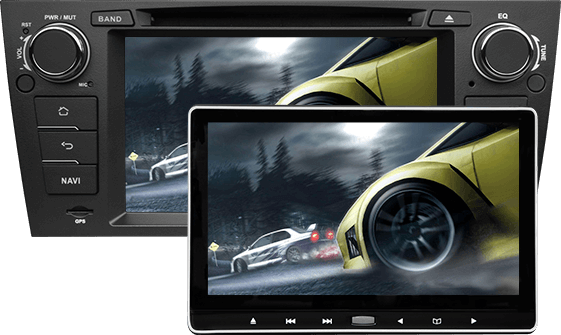 Video Output
By connecting the car stereo to the headrest monitor via RCA cable(not included), the rear-seat passengers can watch car stereo online videos through the headrest monitor.
Retain Original Car Features
Dual CAN Bus system retains original car features after installing the new car stereo and builds information interaction between the car stereo and the car.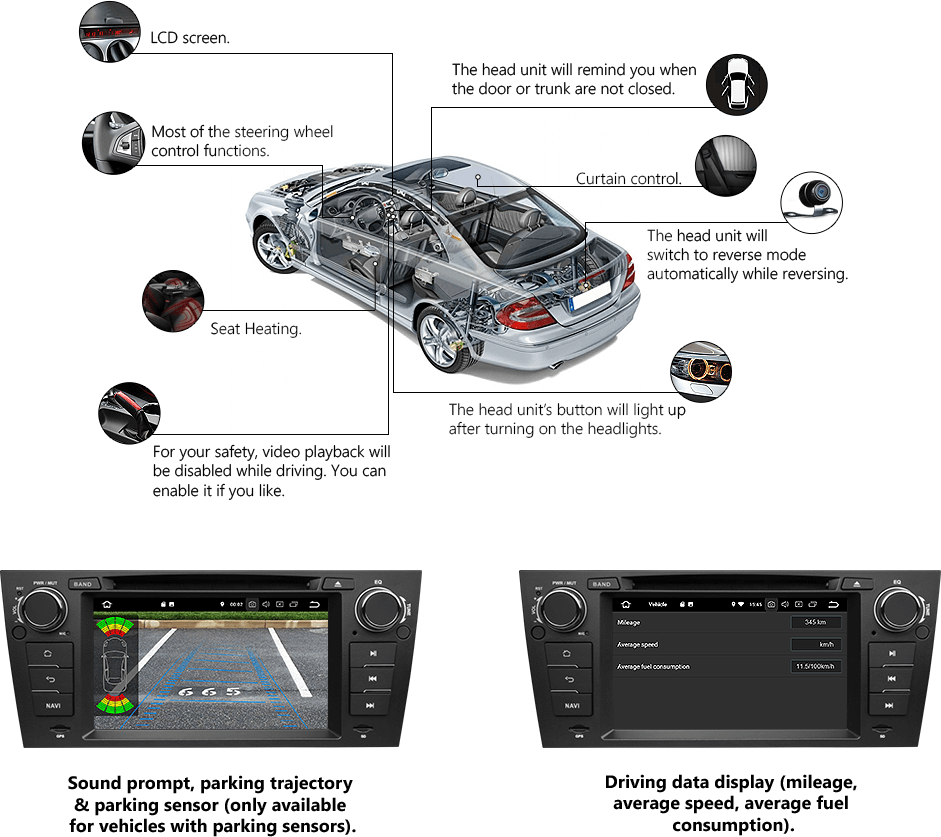 So Real You Can feel It
The 7 inch digital capacitive touchscreen with 1024x600 high resolution makes scenes more real than ever before, and gives you a precise fingertip control experience.

Using Internet Anywhere Just Got Easier
Use your smartphone to create hotspot, and purchase a Wi-Fi router or 4G dongle. So many ways for internet accessing. You can watch online movies, browse a website or download a great road trip app with no worries. (Network sharing via USB or Bluetooth is not supported.)

5 Present EQ Modes
5 present EQ modes provide you with the controls to tailor the listening experience to your vehicle and listening preferences. You can create an EQ setting that best match your favorite music.

Is Boot Time
One second refers to the time of warm start, which means it takes only one second for you to restart the car stereo without turning off the power. (Note: Standby time can be set up to 1 hour.)

Steering Wheel Control for Safer In-car Operation
Compatible with most of steering wheel control functions. Easy to switch songs, channels and adjust volume to help you to minimize distractions and keep eyes on the road.

USB/Micro SD
Charge your iPod/iPhone/Android device by connecting one USB slot. Supports USB flash drive, MP3 player & Micro SD card with up to 64GB of storage USB/SD.

Dashcam Ready for Driving Peacefully
It can record everything in front of you while you drive. If accident occurs HD video can be saved in SD card or USB for avoiding false accusations and insurance claims. (Note: Eonon dashcam is not included.)

See Car Performance in Real-time
With the Bluetooth OBD2 diagnostic scan function, you're able to get OBD fault codes, car performance, sensor data and more car information in real time. (Note: Eonon V0056 OBD2 scanner is not included.)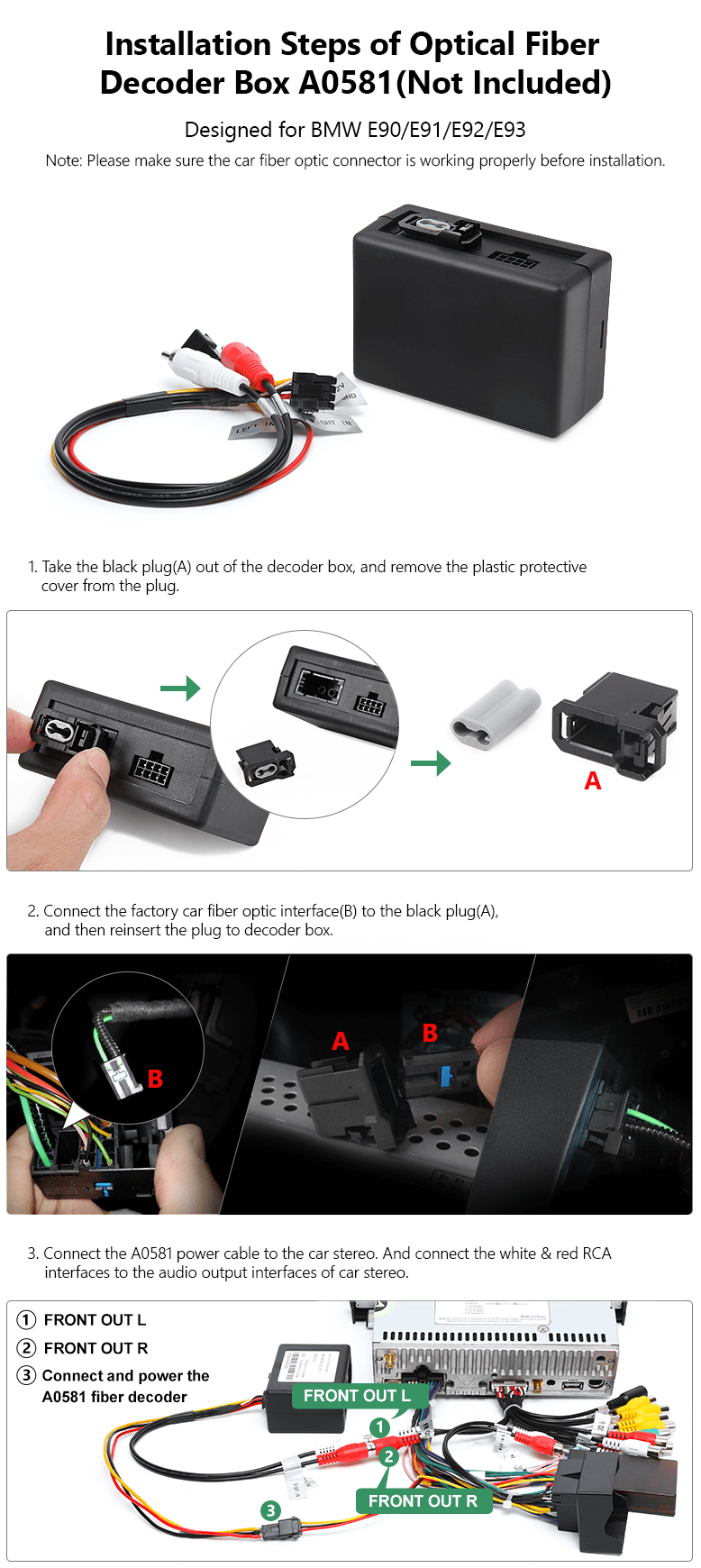 Saatavilla - Saldot ei päivity automaattisesti (OEM soittimet 1-2 vk)